Have you thought of becoming an Independent Jeunesse® Distributor yet? 
No matter where in the world you are.
In addition to offering 7 days a week product advice to our clients, we also offer assistance to those wishing to become Independent Jeunesse Distributors of products available for sale.
Remuneration from Jeunesse® for sales efforts made within your business is exceptionally generous, increasing your income potential with six forms of income streams being made available to you.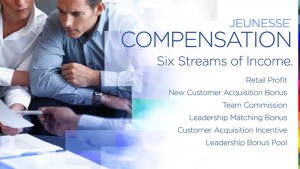 Some members of our team have been utilising and selling Jeunesse® products for many years now, having had to import same products themselves until only recently.  It is the advice and support of these professional team members that has made the launch of new Distributorships into the SA market so much easier for so many.
Please contact us anytime should you wish to know more about being an Independent Jeunesse® Distributor in South Africa – or anywhere else in the world, for that matter.
Our global client retention rate is exceptionally high. So is our sales turnover. Don't take our word for it.
Google search and see Jeunesse's brilliant December 2014 turnover of USD60m.
This brilliance then doubled 6m later to USD120m in June 2015.
Jeunesse® Luminesce™.  Jeunesse Instantly Ageless™.  Incredible Products.  Incredible Results.
Have you thought of becoming an Independent Jeunesse® Distributor yet? 
LUMINESCE™ daily moisturizing complex Benefits:
Provides you with immediate 24-hour skin hydration
Reduces the appearance of fine lines and wrinkles fast
Plumps the skin
Providing sun protection, it naturally protects your skin against sun exposure
Contains an exclusive patent pending formula derived from adult ells containing 200+ key human replenishing factors that support your skin's natural renewal process
Helps delay the aging process by encouraging your skin's cells to renew and rejuvenate
Provides a natural moisturizing barrier that helps prevent dehydration of your skinc
Absorbs quickly into your skin
To Join Now or for further brilliant information please click here.
Contact Us:
Ageless Beauty Xtreme Cape Town
Jeunesse® Independent Distributor SA
mobile: +27834570440
fax: +27865547210
e-mail: karen@gcxtreme.co.za
website: www.beautyxtremeSA.jeunesseglobal.com
website: www.gcxtreme.co.za/jeunesse-skincare
Have you thought of becoming an Independent Jeunesse® Distributor yet?