Experience the power of Jeunesse® Luminesce™ Cellular Rejuvenation Serum
Buy yours in Cape Town or anywhere in South Africa today.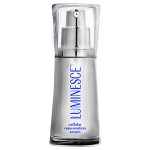 Dermatologist-developed, this must-have serum helps minimize the look of fine lines and wrinkles to reveal your skin's youthful radiance.
Give your skin the luminous glow with this potent serum that contains the highest concentration of APT-200™.
Diminish the look of fine lines and wrinkles for a youthful-looking complexion.
Revive with antioxidants and vitamins so skin feels beautiful.
Renew for a more even-looking skin tone.

Benefits:
Replenishes your skin's moisture levels
Supports your skin's youthful, firm appearance
Minimizes the appearance of fine lines and deep facial wrinkles
Renews youthful luminosity to aging skin
Addressing your skin's natural stores of replenishing factors and proteins that can become depleted with age
Delays the appearance of the aging process
Absorbs quickly into your skin
Ingredients:
Advanced Polypeptide Technology, Purified Water, Glycerin, Saccharomyces Lysate Extract, Hydroxyethylcellulose, Gluconolactone (and) Sodium Benzoate, Sodium Hyaluronate, Xanthan Gum, DL-Panthenol, Sodium PCA, Allantoin, Superoxide Dismutase, Sodium Hydroxide.
Usage:
Apply a small amount of serum to your fingertips. Massage evenly in an upward circular motion to the face and neck.
For best results, apply in the morning and at night after cleansing and before using other facial products.
Experience the power of Jeunesse® Luminesce™ Cellular Rejuvenation Serum
Retail Customers Please Note: 
We are currently undergoing an upgrade of our international Jeunesse website.
We anticipate intermittent errors related to RETAIL* product purchases made in S.A. this week.
We apologise for any inconvenience caused and ask that you please contact us for your Retail product orders during this time instead.
Thank you for your understanding.
Please Contact Us:
Ageless Beauty Xtreme Cape Town
Jeunesse® Independent Distributor SA
e-mail Us
mobile: +27834570440
fax:        +27865547210
web:      www.beautyxtremesa.jeunesseglobal.com
web:      www.gcxtreme.co.za/jeunesse-skincare

Experience the power of Jeunesse® Luminesce™ Cellular Rejuvenation Serum.
Testimonials: Please note that individual results may vary. Jeunesse® does not endorse personal testimonials.
Product leaflets: Statements have not been evaluated by the Food and Drug Administration.
Product usage: Products are not intended for the diagnosis, treatment, cure or prevention of any disease.
Jeunesse® and the Jeunesse logo are registered trademarks of Jeunesse Global, LLC in the U.S. and/or other countries.
For more information, please visit: www.beautyxtremesa.jeunesseglobal.com