Welcome to Ageless Beauty Xtreme Cape Town, South Africa.
We are Cape Town based Jeunesse® Global Independent Distributors, proficient in online Distributor & Client registrations and training since early 2015.
We are expanding our business presence around the globe and are looking for like-minded business builders and Entrepreneurs, in search of a lucrative additional income.
Yes. Jeunesse® Luminesce™, Instantly Ageless™, Reserve™, NV® & Zen Agents wanted! Plus Vidacell too!
We are looking for go-getter, ambitious people around the globe to join our organisation.
2017 has been a memorable year for Jeunesse Distributors – Being part of a Billion Dollar Company, the only Network Marketing Company on the prestigious INC 500 list of companies, numerous marketing and company awards, 90 Days to Success with Shoot to Sapphire Promotion, Canadian and various other country Incentive trips, other Fully paid trips, Expo in 5x countries and most recently, a limited opportunity to become a Founder and share in the Jeunesse Quarterly Founders Bonus Pool!
Shares in a Billion Dollar company's profits.  It doesn't get better than that! Unless you are with Jeunesse of course, it does!
Video
Please see a short Jeunesse Opportunity video below and let me know what you think on +27834570440 (GMT+2 Cape Town SA)
It's a Company Overview for you, created by one of our 6 figure Jeunesse Global Partners, residing in Florida, USA (6.13 mins):
You may see more and Become a Jeunesse Member via www.beautyxtremesa.jeunesseglobal.com.
The Opportunity
Are you a professional Business person, used to working at your own pace? Working whenever or wherever you chose? On any day of the week – or weekend.  Meeting clients and friends in coffee shops, hotel lobbies, beach bars or home offices?
Do you want a Business that suits your Lifestyle, rather than a Lifestyle that suits your Business?
Jeunesse Global may just be for you.
What's your preference?
a) Sales perhaps, keen to resell our Jeunesse® Luminesce™, Instantly Ageless™, Reserve™, NV® & Zen products onto new and regular clients?
Or rather
b) the Business-building side of life, preferring to recruit like-minded, professional business builders like yourself?  Your call.  Always.
With 6x ways to earn, what have you got to lose?
If Jeunesse Global is what you have been waiting for, please Contact me, Karen Roux today on +27834570440 (GMT+2 SA) via Whatsapp or Telephone call for an immediate response.
Thank you
*
Yes. We are growing. Not only is Jeunesse® the fastest growing Network Marketing Company in history, in the world today – Our Jeunesse Global Partners Group is also the fastest growing team in Africa and around the globe.
󾭚Our mission is CRYSTAL clear…the global MOVEMENT continues! We Live Jeunesse! #1T1F1J #AtTheOffice #LiveTheChange ⛲️🌐󾭂

Posted by Scott A. Lewis on Saturday, 30 July 2016
Jeunesse® Luminesce™, Instantly Ageless™, Reserve™, NV® & Zen Agents wanted!
Earn SA Rands & US Dollars.  Professional mentoring by the highest USA earners in Network Marketing today! Diamond Director team access. 0834570440
(Should you be wishing to purchase Jeunesse® products only, please Contact Us for an accredited Independent Distributor near you)
The Perks:
Ageless Beauty Xtreme Cape Town, Distributor Enrolment facilitators, on behalf of Jeunesse® Global USA have some serious perks on offer to you, available when joining Jeunesse® right here.
What's in it for you?
Exclusive Youth-Enhancement Products
Perfectly positioned in a booming sector
Products people are raving about
Dedicated Support
Your own personal website
Business tools & training 24/7
Social media resources & your own business app
A Rewarding Lifestyle
Time, freedom & financial security
Luxury vacations with Lifestyle Rewards
Lasting relationships with people all around the world
Events & celebrations
The chance to give back
Join Jeunesse® today. Jeunesse® Luminesce™, Instantly Ageless™, Reserve™, NV® & Zen Agents wanted!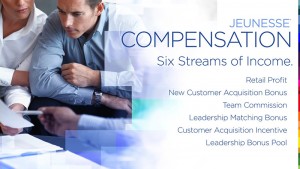 You set your own goals on your own schedule.
Jeunesse® gives you exclusive products, expert training resources and pro marketing materials to build your own business on your own terms.
Whether you're looking to earn part-time income or enhance your current or new business, Jeunesse® provides you with the lucrative business opportunity that you need. All at your own pace.
Please Contact Us today for more.
Meet our Business Partners
Our Jeunesse® partners are varied. Many of our business associates are Network Marketing professionals, operating various industry type businesses alongside their Jeunesse Distributorship.
Some of our busiest partners are our Hair & Beauty Salon and Spa owners, in-house Hotel Spas, Guest houses and prestigious Country Lodges.
Equally as busy are our Model Agencies and Media & Entertainment companies, all either utilising our Jeunesse® products or reselling them onto their network of celebrity clients and businesses.
Very serious about our innovative skin care products in particular, are General Practitioners, Dermatologists and various Health Care professionals, recommending Jeunesse® anti-ageing solutions to their patients and associates.
We are also proud to be assisting the non Corporate sector as well, from very active 'stay at home' Moms & Dads, Students and Pensioners, earning additional income at their own pace.  Those previously unemployed are also seeing good returns for their efforts.
Yes. Jeunesse® Luminesce™, Instantly Ageless™, Reserve™, NV® & Zen Agents wanted.
Jeunesse® is a 7 year old leading direct selling company devoted to encouraging healthy living.  Products are made in the USA and are exclusively formulated for Jeunesse®.
Company research focuses on the science and essence of anti-ageing, cell protection and support, attention to DNA, weight management technology and nutrigenomics.
With a multilingual customer service, back office support team, global enrollment system and in-house programming already in place, the company is fully operational in 32 offices in over 140+ countries as well.
Instantly Ageless™ is a temporary topical eye cream lasting max 6 to 9 hrs, containing the powerful peptide Argireline, known to reduce fine lines and wrinkles, tightening the skin and working for you within 2 minutes.
Luminesce™ range consists of seven skincare products including our flagship Cellular Rejuvenation Serum.
NV™ Primer, Perfecting Mist Foundation & Bronzer for the professional air-brushed look!
Reserve™ is our anti-aging antioxidant gel that contains Resveratrol, guarding one against free radical damage and cell protection.
Vidacell®  is a Detoxifying Food Supplement – a unique rice flour blend made from native strains of select brown, short, and fragrant rice.
ZEN Bodi Project 8™ system targets the three essential aspects of getting fit: curbing appetite, burning fat and building muscle.
All of our innovative products are scientifically proven.
Video
Our latest Trending Product from Jeunesse® Global – APT-200™ NV™ Primer, Perfecting Mist Foundation & Bronzer
(For Jeunesse® anti-ageing product Sales please Call Us for a Distributor near you)
Jeunesse® Luminesce™, Instantly Ageless™, Reserve™, NV® & Zen Agents wanted!
Join Jeunesse® as a business
Please Contact Us to join our Jeunesse® family of Professionals today or go to https://beautyxtremesa.jeunesseglobal.com and select Become a Member.
Or Call or Whatsapp Us Now on 0834570440
Jeunesse® Events: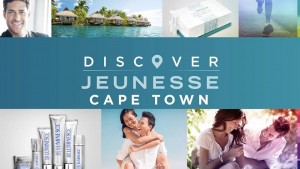 Discover Jeunesse® Opportunity Meetings:
Please ask us about our next 'Discover Jeunesse® Opportunity meeting in Cape Town, Durban and Johannesburg.
These prestigious and informative events are attended by a mix of our international leaders, corporate management, clients and distributors. Whatsapp or Call us on 0834570440 to get you and your business associates onto our guest list.
Jeunesse® Corporate Networking events and Exhibitions:
Look out for us at the next Health, Wealth, Wellness & Beauty Expo or corporate Networking event in a city near you soon. Your support is greatly appreciated.
Yes. Jeunesse® Luminesce™, Instantly Ageless™, Reserve™, NV® & Zen Agents wanted!
Video
Jeunesse® Opportunity Video (14.16 mins)
 Video Links
Dr Nathan Newman – Jeunesse® Stem Cell Technology https://youtu.be/Zpg03N2e5xM (2.17 mins)
Jeunesse® Instantly Ageless™ https://youtu.be/ZVa2rF23CUE (1.35 mins)
Zen Bodi™ Weight Management https://youtu.be/8uqj_E7tIO0 (2.53 mins)
Jeunesse® Opportunity Video 1 https://youtu.be/6lhEyoun5fc?list=PLpQxGlgAp7G6Xd0A-QvB6P-2HmhLIIsa8 (14.16 mins)
Document Links
Contact Us for your copy of our Jeunesse® Financial Rewards Plan and Income Disclosure documents.
Yes. Jeunesse® Luminesce™, Instantly Ageless™, Reserve™, NV® & Zen Agents wanted!
Contact Karen Roux – Jeunesse Founder at Ageless Beauty Xtreme Cape Town
Jeunesse® Independent Distributor & New Business Facilitator S.A.
Please Mail Us
Mobile: 0834570440
Website: http://beautyxtremesa.jeunesseglobal.com
Website: www.gcxtreme.co.za
#agelessbeautyxtremecapetownsa

Yes. Jeunesse® Luminesce™, Instantly Ageless™, Reserve™, NV® & Zen Agents wanted!
Are you an Entrepreneur, looking for an additional business in Cape Town? Or are you keen on another income stream in Southern Africa?  Perhaps you are considering  joining  Jeunesse® as an Independent Distributor but need a team that's successful and has what you need for success?
We believe that you should run your Business around your Lifestyle and not your Lifestyle around your Business.
If the above is of interest to you, Jeunesse Global may just be what you are looking for. Please call us on +27834570440 for more.
(For any Jeunesse® product purchases please Contact Us for a Distributor near you today)
Testimonials: Please note that individual results may vary. Jeunesse® does not endorse personal testimonials.
Product leaflets: Statements have not been evaluated by the Food and Drug Administration.
Product usage: Products are not intended for the diagnosis, treatment, cure or prevention of any disease.
Jeunesse® and the Jeunesse logo are registered trademarks of Jeunesse Global, LLC in the U.S. and/or other countries.
For more information, please visit: www.beautyxtremesa.jeunesseglobal.com.